Meanwhile, Luther Blissett...
Meanwhile,
Luther Blissett
, the black English footballer who briefly played for Serie A team A C Milan after a surprise poaching from the English club Watford in 1983, took to the airwaves
with the doleful admission that French and Italian soccer was notoriously racist.
Zidane's best course, offered Blissett, was to go public with an account of what Materazzi really said on the pitch on Sunday night. He said this was the only way for the world, Europe and European football to understand the sometimes subliminal racial mindset of the beautiful game.
Blissett's comments have caused a stir
---
Zidane, butt of European race debate
http://sport.indiatimes.com/soccerarticleshow/1725359.cms
--- --- --- --- --- --- --- --- --- --- ---
From Blissett to:
WuMing!
... the story of a mysterious collective of guerrillla novelists from Italy. The tale begins from their previous militancy in a loose-knit cultural network named after a Black soccer player.
If you want to find info on the Wu Ming Foundation and the Luther Blissett Project, if you enjoyed (or hated) one of Wu Ming's novels and want to know more about the authors, if you want to write a feature article, a review, an essay, a smart blog post or comment, this is the right place to come.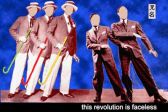 Index
00.

Prologue




01.

Who is Luther Blissett. Birth of a folk hero


02.

Luther Blissett Trivia (Music, Spoken Word, Video etc.)


03.

Making The Reputation Of Imaginary Artists


04.

Making The Reputation of Imaginary Cultists


05.

The Night Luther Blissett Hijacked A Bus In Rome

/snap/